Workshops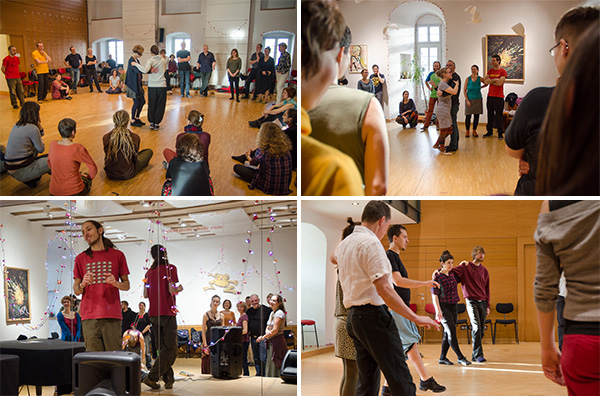 Dance Workshops
What would a Bal Folk festival be without its dance and singing workshops? Quite boring we thought and reserved two halls from the second day onward. Workshops will be from 1 to 3 pm. Time to wake up, have breakfast and learn! :-) Last year, lovely people were willing to share their knowledge. We thank Florine, Inja, Maik, Pippa, Maja, Maxi, Gregor, Melanie, Yarince, Sibylle, Francis, Martijn, Meike, Lore, Hilde and Ralf. Without your effort and your contribution our previous New Year's Eve festival would have not been the same! :-)
We are happy to invite you to run a workshop and to enrich our festival program. If this sounds good to you, please contact us via: florian@tanzvolk-leipzig.de
Wishes:
The following still unfulfilled dance course wishes existed so far with the registration:
Poitou, Arin-Arin, Dance technique, Viennese waltz, Mazurka, Congo de Captieux, Branle d'Ossau, Kapverdian Mazurka, Fandango, Leading and Following, and because it doesn't fit anywhere else: Acro Yoga.
Maybe someone will be found who may fulfill one or the other wish or can offer another great course. The still undecided can of course also spontaneously offer a course on site.
Already planned workshops:
Bal Limousine and Mardi Gras – with Line and Mara
The two dances are very fun and can serve you as a fitness program on the day. The good thing is - they actually seem complicated only because of the speed, but they are absolutely learnable. We will learn the Bal Limousine and the Mardi Gras from Poitou together, so hopefully they will blossom on more dance floors later. Come along and bring some stamina, water and anticipation.
Swedish minuet for beginners – with Selma
The Swedish minuet is a graceful, swinging dance. The dancers face each other in a pair – similar to the bourree – and move around each other in certain spatial paths and figures. Over the last centuries the minuet has changed its style again and again: If in the beginning it was danced rather faster to waltz-like rhythms, today one sees a more carried version to Slängpolska music.
For many years, the minuet had disappeared from the dance floor in Sweden. And yet it is probably the dance in Sweden that has been danced the most often over all the centuries since it was created! Maybe this is because it was the first dance where the dancing couple was allowed to touch each other? Because even if the dancers communicate most of the time through the eyes, they touch each other's hands briefly in between.
Swedish dance workshop including minuet (for advanced dancers) – with Selma
What's the minuet step again that we learned the day before yesterday? Why can't I do a full turn in the polska? What other figures are there in the Slängpolska? Was that Bakmes or Stigvals? Here you can ask your questions about Swedish dances, get new ideas or just dance Swedish again – also to live music.
Bourree 2/4 – with Ralf
How exactly do you have to dance when the dance is called "drunk" in French? Good question, especially as Bourrée is actually danced differently in every village. Let Ralf take you by the hand, or rather let him look deep into your eyes, and he will guide you through the different villages of the Centre.
Bourrée 3/8 – with Ralf
The Bourrée d'Auvergne is a proud and playful swaying and turning in 3/8. Ralf would like to share his knowledge of his favourite dance with us. Basic step, the right stomp and leading and following by eye contact, the story behind it and the music; all this is at least as important as playing with your dance partner's expectations and the bright faces when you find yourself next to your partner after the turn around.
Bourrée with more than two people – with Ralf
Can you only dance Bourrée in the alley? NO! says Ralf. There is so much more to it! Bourrée choreographies with many, or structured chaos with music – whatever you want to call what Ralf has in mind for you, in the end you can Bourrée with three, with four, with six..., with eight... How? There's more?! Come to Ralf, put on your right and left socks and master one challenge after the other.
Uneven Mazurka – with Ralf
The French Mazurka is the favourite dance of many dancers. The long, curved yet accentuated movements often make couples melt into the music. But what do you do when the music doesn't fit the classical pattern? What is a mazurka in 5/4 time? And where is which step hidden in an 11/4 mazurka? If you've always looked at other people's feet to see what others are listening to – rejoice! Ralf will let you in on the secrets of the uneven Mazurka.
Uneven Waltzes – with Ralf
ONE two three, ONE two three, ONE two? ONE one two? ONE two, one two three? One two three, one two three, ONE TWO? Is that a code? Yes! In front of you lies the language that makes waltz traditionalists despair and attracts lovers of the uneven waltz to the dance floor. Ralf wants to bring together friends and not-yet-friends of the uneven waltz to train your ear and your body's centre of gravity. Dare to learn how the emphasis of the music also influences your emphasis in the dance. And don't worry – there are no mistakes, only improvisations.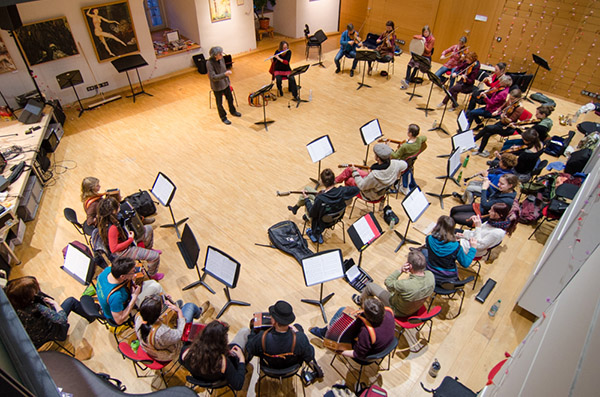 Music and Singing Workshops
From the second day onwards, we offer music workshops. Because of a limited number of participants, you have to enlist during the presale. If places are available, you can still join spontaneously at the festival.
After the workshop, if possible, all the participants can give a presentation of their new skills to the other guests of the festival.
These are the workshops currently planned:
Ensemble music workshop — by Jérémie Bonamant Teboul (Bal Barbare, Kaz Kan Zie, Escale Ordinaire, Plume) and Aymerick Tron-Alvarez (Kaleidoscope, Kaz Kan Zie)

The ensemble music workshop is open for all instrumentalists who have mastered the basics of their instrument. Reading music is not necessary, a working ear is enough ;-)
Through the learning of a tune composed by the animators (a scottish and a waltz will be proposed), the goals of this workshops are to approach the work of arrangement (structure of the piece and alternation of the voices and instruments), various rhythmic accompaniments as well as the musicality of the ensemble in order to find the pleasure of playing together!
The workshop will be divided into two parts: melody & accompaniment. Please bring your own recording equipment as well as paper and pen. This workshop is open to all instruments with an average level of practice (be autonomous on your instrument to be able to work alone or in a group on the proposed arrangements).
The workshop will be held in English language.
Violin — with Camille Stimbre (Bargainatt)


Diatonic Accordeon — with Léon Olivier (Bargainatt)


Diatonic Accordeon — with Sophie Cavez (KV Express)

3 row/12 basses required.
Based on a tune, we will learn different ways of playing left hand and right hand. We will work on basses, chords, harmony.
The workshop will take place in English language or, if all participants understand it, in French.

Niveau: 3 rangs - 12 basses On abordera sur base d'un thème plusieurs façons de le jouer à la main droite et à la main gauche. Jeu de basses, accords, harmonie.
L'atélier se fera en langue anglaise ou en Francais, si tout le monde le comprend.
If you are registered for a workshop, but want to switch to another one or cancel, just write a short message to florian@tanzvolk-leipzig.de