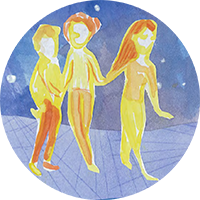 Tickets
Our New Year's Eve festival is a little holiday at the end of the year to spend the last days of the year with friends and good music. This holiday does not only include the evening balls but also a warm sleeping place and delicious meals. Therefore, prices are higher than for the regular summer camping festivals. The money is worth it: you get five totally stress-free days while you can enjoy and participate in the fantastic community and its familiarity entirely.
Our festival is a non-profit event. Every Euro is used to pay for the sleeping places, the food and the music.
>>> The Festival is sold out. <<<
Prices for full 5-day tickets
With the full 5-day ticket you can enjoy the festival from start to finish. Discounts and the solidarity ticket are explained further below. The prices are as follows:
Full Price
Simple Discount
-33%
Advanced Discount
-50%
&
Solidarity Ticket
Accommodation in a 4 to 6 bed room/price per person
450 €
301,50 €
225 €
Accommodation in the dorms/price per person
350 €
234,50 €
175 €
On certain days we raise the prices:
1st November: all full 5-day tickets get raised by 20 €.

We do that, because the youth hostel must know until the 15th of November for how many guests they need to prepare food.
Prices for day tickets
Since the sale of the full 5-day tickets is our top priority, we will start with selling day tickets at the 1st of October. With a day ticket, you can join the festival from the first workshop onwards up to the breakfast on the following day. Included is a sleeping place in a bed or on your own mattress (air bed) and 3 meals. Day passes for the air mattress space, however, are not expected to be available.
Accommodation in a 4 to 6 bed room/price per person
Full Price
Simple Discount
-33%
Advanced Discount
-50%
&
Solidarity Ticket
27th December
80 €
53,60 €
40 €
28th December
100 €
67,00 €
50 €
29th December
100 €
67,00 €
50 €
30th December
100 €
67,00 €
50 €
31th December
100 €
67,00 €
50 €
Accommodation in the dorms (on your own air bed)/price per person
Full Price
Simple Discount
-33%
Advanced Discount
-50%
&
Solidarity Ticket
27th December
55 €
36,85 €
27,50 €
28th December
75 €
50,25 €
37,50 €
29th December
75 €
50,25 €
37,50 €
30th December
75 €
50,25 €
37,50 €
31th December
75 €
50,25 €
37,50 €
Prices for evening tickets
We guess that we will launch the evening ticket sale in the middle of December. By then, we will know, how many we can sell.
Evening Ticket
Full Price
Simple Discount
-33%
Advanced Discount
-50%
27th December
40 €
26,80 €
20 €
28th December
50 €
33,50 €
25 €
29th December
50 €
33,50 €
25 €
30th December
50 €
33,50 €
25 €
31th December
50 €
33,50 €
25 €
Booking and payment
Conditions:
Once you have booked your ticket through Eveeno, you will receive a confirmation email. You will then have 14 days to transfer the full amount to our association account. The account details will be sent with the email.
You have the possibility to cancel your booking or transfer it to another person.
If the cancellation is made one month to 15 days before the festival, the transferred amount will be refunded minus a processing fee of 50%. From 14 days before the feast there will be no refund.
The booking can be transferred to another person by sending us the name and contact details (address, e-mail address and telephone number) of this person and the booking number.
What is included in the ticket?
The most important of all questions! :-) As guests of our festival you will get a sleeping place, as ordered, in the youth hostel and free meals. 2 meals on the day you arrive, 3 on every full day and 1 meal on the day you are leaving. Some more details are listed on the page "accommodation".
Also included, of course, is the entrance to all balls, dance and most music workshops. Entrance to music workshops is limited. You must register in advance while ordering your ticket. Some special music workshops will have a little fee for the teacher.
Discounts
In opposition to some other festivals we have a very pronounced discount system in Leipzig and Colditz to ensure that everybody, regardless of income, can attend the events of our association. On our regular evening balls throughout the year we already switched to a "pay what you want"-system. But we're not ready to apply this experiment to our biggest festival.
Entitled for the -33% reduction are: pupils, students and trainees from 14 to 27 years, pensioners and unemployed persons.
Entitled for the -50% reduction are: owners of city- or family passes, persons with a serious impairment as well as their assistive personnel and children from 2 to 13. (City- or family passes are certificates to prove a low income and are used to get reduced prices at museums, concerts etc. in Germany. They might also exist in your country.)
Small children, who have not reached their second birthday, pay no charge.
All discount entitlements have to be shown on arrival at the festival. If you can't do that, you will have to pay the full price. No additional volunteers will be needed at the festival. There is no possibility to get a discount that way. Also, there are no special discounts for members of our association.
Solidarity Tickets
While planning the price structure of the festival, we had in mind, that our friends from countries east of Germany have a lower income. Our solution for that is the solidarity ticket. It's a discounted ticket for people that might not be eligible for one of our regular discounts but can't afford a ticket at full price.
The solidarity ticket is financed through voluntary donations from other guests. We ask everybody to donate, who is able to spend more than required, either by not using a discount that they might be eligible for or by donating a little bit more on top.
We will start selling these tickets on the 1st October and on the 1st day of each following months. The number of solidarity tickets depends on the sum of donations made by others.
Despite, it being an idea for our eastern friends, everybody can book a solidarity ticket regardless of origin. The solidarity tickets are unconditional. You decide yourself, whether you book one or not. We won't judge or ask questions.
We hope that this idea helps those, that would not want to forego a holiday with their friends.
Corona
Maybe it's over, but maybe not. If the government sets access conditions, we will of course inform you about it.