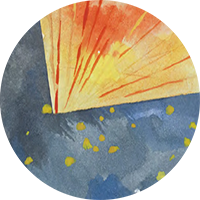 Workshops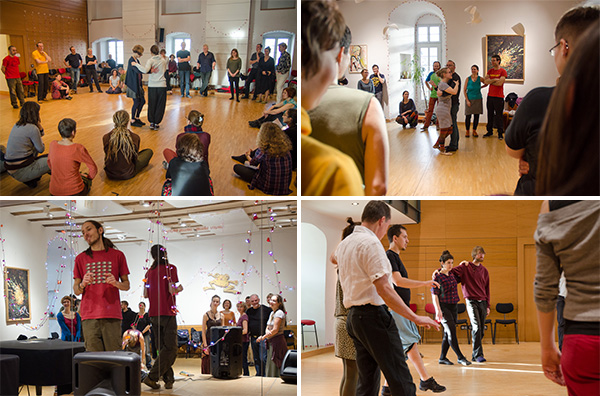 Dance Workshops
What would a Bal Folk festival be without its workshops? Quite boring we thought and reserved two halls from the second day onward. Workshops will be from 1 to 6 pm. Time to wake up, have breakfast and learn! :-) In 2019 lovely people were willing to share their knowledge. We thank Florine, Inja, Maik, Pippa, Maja, Maxi, Gregor, Melanie, Yarince, Sibylle, Francis, Martijn, Meike, Lore, Hilde and Ralf. Without your effort and your contribution our previous New Year's Eve festival would have not been the same! :-)
We are happy to invite you to run a workshop and to enrich our festival program. If this sounds good to you, please contact us via: florian@tanzvolk-leipzig.de
December 28th
13:00–15:00
Branle de la Vallé d'Ossau – with Line

A dance from the southwest of France, which enchants the dancing and watching people with its wonderful music. But the dance is clearly trickier than it seems at first sight.
Come by!
Swedish minuet for beginners – with Selma

The Swedish minuet is a graceful, swinging dance. The dancers face each other in a pair – similar to the bourree – and move around each other in certain spatial paths and figures. Over the last centuries, the minuet has changed its style again and again: While in the beginning it was danced rather faster to waltz-like rhythms, today we see a more carried version to Slängpolska music.
For many years, the minuet disappeared from the dance floor in Sweden. And yet it is probably the dance in Sweden that has been danced most often over all the centuries since it was created! Perhaps this is because it was the first dance in which the dancing couple was allowed to touch each other? Because even though the dancers communicate most of the time through their eyes, they touch each other's hands briefly in between.
Bourrée 3/8 – with Ralf

The Bourrée d'Auvergne is a proud and playful swaying and turning in 3/8 time. Ralf would like to share his knowledge about his favourite dance with us. Basic step, the right stomp and leading and following with the eyes, the story behind it and the music; all this is at least as important as playing with the expectations of the other person and the beaming faces when you find yourself next to your partner after the turn around.
15:30–17:30
Singing (Part 1) – with Hilde Van Belle & Lore Vancauwenberghe


Accordion – with Léon Ollivier


Violin – with Camille Stimbre


December 29th
13:00–15:00
Polska – with Ralf

When I think of Sweden, I think of Polska. The dance is difficult but doable. Ralf shows you the simple and the complicated part. It's worth it.
Scottish variations: Combine different Scottish step variations as desired – with Mara & Line

Let's learn step variations for the Scottish together and then incorporate them into a dance according to the music. In the process we will work together on a small Scottish choreography that reflects the music in our steps. A workshop for people who already have a good command of the basic Scottish step.


We are Line and Mara – a dance duo from Leipzig. We have always been on the move and have our roots in modern dance, hip hop, tango and Swing – but above all in Balfolk. It's been our home since we were twelve and we enjoy it in many parts of Europe. In our classes we always change roles so that everyone can start to understand how dancing works from the leading and following position. We think that dancing is political. Through the changing and blurring roles, everyone can learn what it means to take responsibility or give up control.

Georgian Folk Songs – with Meike

Georgian singing is one of the most precious creations of humanity. Folk songs and Georgian chorales have a high degree of harmonic complexity with three to four independent voices. The archaic tone sequences are simple and develop an extraordinary tension and intensity in polyphony.

Most songs in Georgia are sung in three voices:
1st voice: Modzacheli ("caller").
2nd voice: Mtkmeli ("narrator")
Lower voice: Bani (bass)
In this workshop we will learn two Georgian songs and study a bit of singing technique. Due to the special tonality, both songs will be learned by listening and singing along, the sheet music will only serve as a guide. Accordingly, the workshop is more suitable for advanced singers.
15:30–17:30
Ensemble – with Léo Proulx & Olivier Valence

Ensemble workshop in which a bourree of our duo is taught with the aim of later playing it together for the ball. We will work on the characteristics of the bourrée, on energy and "groove". With a second voice and an arrangement of the instruments present, we build a delightful piece for dancers.
Accordion – with Hartwin Dhoore


Accordion Master Class – with Sophie Cavez


Guitar – with Jeroen Geerinck


16:30–18:00
International circle dance – with Maja

We will travel through the countries musically and dancingly. Dancing together in a circle creates a very special connection. The dances are explained step by step and are therefore also suitable for beginners.
December 30th
13:00–15:00
Energy-Level – with Karl

We all carry an energy within us, whether we are aware of it or not. This energy influences how we think, how we feel, and how we act.... and dance. This workshop is a direct and challenging journey into your own energy and how it creates your dance world.
Swedish dance workshop including minuet (for advanced dancers) – with Selma

How does the minuet step go again that we learned the day before yesterday? Why can't I get around in the Polska? What other figures are there in the Slängpolska? Was that Bakmes or Stigvals? Here you can ask your questions about Swedish dances, get new ideas or simply dance Swedish again – also to live music.
Bourrée with more than two people – with Ralf

Can you only ever dance Bourrée in the alley? NO!, says Ralf. There is so much more to it! Figure bourrée with many, or structured chaos with music – whatever you want to call what Ralf has in mind for you, in the end you can dance bourrée in threes, fours, sixes..., eight... How? There's more?! Come to Ralf, put on your right and left socks and master one challenge after the next.
15:30–17:30
Singing (Part 2) – with Hilde Van Belle & Lore Vancauwenberghe


Ensemble – with Filippo Gambetta


Accordion – with Amélie Denarié


Hurdy Gurdy – with Thomas Zeuner


December 31st
13:00–15:00
Dance Philosophy – with Karl

There is an invisible dance and it has no beginning and no end. You don't see it and yet it determines how we dance and turn. We dance it at all times and yet we do not perceive it. Together in conversation we will fully indulge in this dance and discover it.
Verticality in couple dance – with Robin

The workshop would be about exploring the 'bounce' in couple dances such as scottish, waltz, mazurka (the 'hop' mazurka might be a familiar term to you), and polka. This is often associated with more traditional bal trad but I would like to propose it as a way to add another dimension to the dance in relation to the musical aspects of it.
Branle Noirmoutier & Avant-Deux – with Ralf

Poitou is very much in vogue right now. And the hottest dance is the Branle de Noirmoutier. We'll learn it. And the Avant-Deux, of course.
15:30–17:30
Reproduce different moods of the music in dance – with Léo Proulx

What happens when we dance a Schottisch or a Mazurka together and pay more attention to the mood of the music? How can we dance more in tune with the music? If the melody suddenly stops, how could we improvise with it? What is meant by the intensity of the music? How can we play more with melodies and rhythm? We will get to the bottom of such musical questions.
Body Percussion – with Léo Danais


Joining a session as a musician/desacralizing the session – with Olivier Valence

You are learning an instrument and you want to join the sessions? This workshop is for you!
Together we are gonna explore the unwritten rules of bal folk session. Are the sessions the same as an accordeonist or as a percussionist? Can I be part of the session even if I forgot my instrument? Am I welcome even if I am a very beginner (spoiler: of course yes!)? Come and get to know the answers of these questions (and many more)! The session is a door of experimentation, a way to improve the hearing skills as well as a place to meet other musicians. Feel free to join or listen.
Hurdy Gurdy – with Thomas Zeuner